POMW! – A Chief Instructor chain of events
By Kjeld Renshi-dai, 2012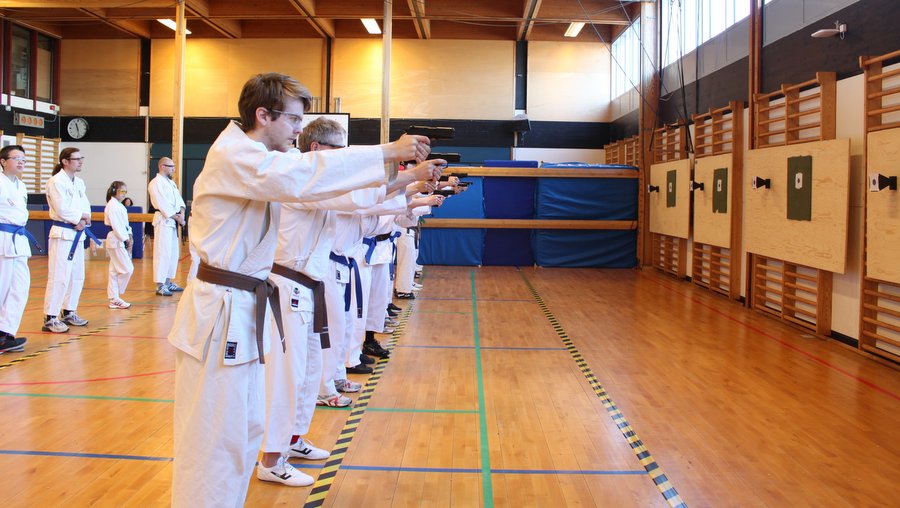 Kimu Sensei has surprised me many times, in the years I have been instructed by him. And he still does :-). Latest with Shindenkans newest tool – POMW ! Project Old Modern Warrior – or in simple words, shooting. As he writes himself, in an article on the Shindenkan webpage – What the f… do we need shooting for? Why do I need a firearm? I am a weapon myself, as expressed by the good old Kung Fu magazine, back in the 1970's – today it is referred to as, Karate Expert.But is that really what I am? At Shindenkan I train with the long sword (Bokuto), the short sword (Kotachi) and the short stick (Jo). But that is primarily wooden weapons. I use them as tools, to learn principles, to find weakness and faults in my technic, and to know my self better.In other words, I have a peaceful goal with my martial arts training, to better myself and others . So – I am definitely not one of the bad guys.But have I taken responsibility for the other side of the medal – which I am able to kill another human being with the technic that I have learned? Have I recognized it, acknowledged it, and have I accepted it?
If somebody attacks my loved ones, or myself. Have I then accepted it, to the degree where I can 100% commit myself to the fight, using the appropriate force (violence?), with a very real risk of hurting, maiming or kill somebody – and with the very real risk of being hurt, maimed or killed, myself? Actually you have a way of seeing you're self in the same light. Imagine that you get behind the wheel of your car. You are now armed with the "gunpowder" of 50-250- horsepower, and a "projectile" with the weight of 1-2 tons. Have you made peace with, what you can do with that "weapon", if you do not show it the proper respect? – Mind blowing right 😉 This I contemplated, when I learned about POMW. I like to reach the core of an issue, to better understand it. And these thoughts have flown around in my head, since Kimu Sensei introduced POMW! – Shooting!
But POMW is not just shooting!
POMW is a new tool in Shindenkans tool box. A part of the red thread. And a part of Shindenkans plan and strategy.POMW! Is a test of Minouchi Sensei's theory, that you can move further in densho degrees (level of self knowledge), with understanding and use of the modern technology, to move us from Martial Art Sport to Martial Art. Using the tool – shooting.POMW! Is an upgrade to the Shindenkan tool box, with the competence of shooting. We train several styles of Martial Arts, to attain knowledge of all forms of fighting. When you notice how often weapons are used in Denmark, and you keep in mind that there is just under 1 million legal weapons (and the gods only know how many illegal weapons) in Denmark, then it becomes highly relevant to have knowledge of weapons. So that we can better judge, when faced with an opponent in a tight situation, whether that person is unable to hit an unmoving elephant, or if that person is a dangerous sharpshooter. Here you may think of Breivik, and several other shooting episodes.
POMW event.
As Chief Instructors we attend an indepth course, while being on the broad POMW theme Leader development Seminar. Kimu Sensei has run the pilot project 100% without compromise. Has worked through, – analyzed and tested the theory, and has the results confirmed by the best shooting instructors in Denmark, Europe and the world. The over all knowledge we have been given on a silver platter, cut back to the essence.We started around New Year 2011/2012, by joining a shooting club, so that we would be able to practice pistol shooting within the frame of the law. We started out with 1 to 2 shootings a month with a 0.22, while at the same time training every other day with airguns, to work on basic technic. This training was ofcourse without CO2 Gas in the pistols, and without bullets (dry-training). It was all about basic technic.The practice shootings went up to twice a week, and June we will start shooting with 9mm, while the dry-training is daily.At all opportunity, RRCamps, Shihan-kai meetings etc, we have received instruction and had our technic adjusted.POMW A, introduced us to the historical background and the theory of Minouchi Sensei, as well as the base of POMW.POMW B, introduced further theory, and more training with the airguns on the shooting range. The basic technic was polished. The shooting manual is in all its simplicity : Safety, Basic and optimal shooting technic. In theory and practice, we have trained Safety, Safety, Safety and Safety. Always we treated any firearm, whether it is caliber 0.22, airgun or a water pistol :-), as a real and dangerous weapon. If the safety rules are broken, you are immediately disqualified, and benched. So that you may think of the consequences, if the rules are broken during life fire practice (real gun – real ammo). POMW C, we looked at the results of the three weeks of dry-training, in the form of marked better results on the shooting range. POMW! Shooting manual works! We have practiced shooting with several stationary targets. We have moved over in to the real world – shooting with the target in motion, naturally with airguns. Here it is essential that the basic technic has been learned, and remembered, even when the pulse goes up.
End result.
What results have I had so far from POMW?
I have been strongly challenged by the contemplating necessary to complete POMW.I have reach marked results in the form of precision and technic.It has been revealed to me, several places where my technic, my continuity and attitude is not at 100%. And that is GOOD. Because then I know, what to work on.
Warning: Use of undefined constant is_front_page - assumed 'is_front_page' (this will throw an Error in a future version of PHP) in /customers/8/5/f/jokokan.com/httpd.www/pomw/wp-content/themes/wp-simple/parts/blog-tax.php on line 8 Warning: Use of undefined constant is_front_page - assumed 'is_front_page' (this will throw an Error in a future version of PHP) in /customers/8/5/f/jokokan.com/httpd.www/pomw/wp-content/themes/wp-simple/parts/blog-tax.php on line 17