Don't get DQ'ed
By Claus Shishu, October 2012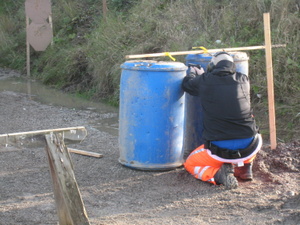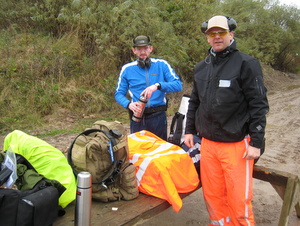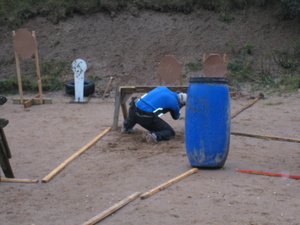 The day, or the weekend if you like, where the last 9 months of training was to be tested was finally, or should I say already, here. Now, it would be clear if we could actually transform our learning and training into something practical, and whether this would result in an A-license. What's an A-license you may ask? I guess you could compare it to a driving license for shooters. Without an A-license, you are not allowed to shoot while moving or to pull your gun. It is the highest license you can achieve within sports-shooting in this country. It is used in the IPSC (International Practical Shooting Confederation), which could be nominated the Formula 1 within shooting. With an A-license, you can take part in IPSC competitions around the world. IPSC is shooting used in practice and origins from the military. The preparations for this weekend had, in my case, started 9 months earlier, when I together with a few other instructors began the POMW project. These preparations followed more than 1 year of preparation from sensei. We had been given a programme. If we followed it, it would bring us to the A-license exam. The programme consisted of dry training and shooting with live ammunition. The dry training consisted of daily training with a toy gun and was gradually expanded to include other exercises. Shooting with live ammunition consisted of range shooting at 15 and 25 metres distance, first with a calibre .22 and later with a 9 mm pistol. There was also an introduction to other calibres such as the .357 Magnum, the .40 cal., the .45 cal., the .44 magnum and the magnum Slugs. This introduction was only meant to give us some basic knowledge of them. Later we started with exercising the moves and SIRT (Shot Indicating Resetting Trigger) training, stretching, transition training, 'strong- and weak-hand' etc.
I must admit that I was sceptical at first. Would I really manage to pass the A-license exam? When I did my first shots on the range I was not able to hit the target from a 15 metres distance with a .22 cal., and in IPSC is it not unusual that the target is 50 metres away and there you only shoot with 9 mm or larger pistols. So it was with a bit of resistance that I had gone into this. I did, however, follow the programme and after a few weeks, I could see the results on the range. I hit the target and got better and better with every week that passed. This gave me a taste for more and I let go of all reservations. Shooting is a wonderful sport where the results are shown immediately.
This weekend we were to learn about IPSC shooting (all day Saturday and until noon on Sunday). The exam would be on the Sunday. We had all come to a shooting range facility in North Zealand an early, cold and wet Saturday morning in October. We were a total of 9 shooters. We had 5 instructors who all had up to 30 years of experience in IPSC and that were either Range officers or close to becoming one. The day started with a cup of coffee and a brief presentation of the instructors and participants. All the participants (apart from the participants following the POMW courses) had between 5 and 30 years of shooting experience. Among them was a hunter with more than 15 years of experience, a professional bodyguard and an active police officer. After the brief presentations and a short speech from the main instructor of the day, we went down to the shooting range, where we presented our weapon permits. After the formalities were in place, a target was set up to each participant, just like for an ordinary shooting range. Here, each individual shooter was placed in front and we were told to empty the magazine on the target. The distance was not very long, so I believe that the aim of the exercise was to see how well we shot and to calm our nerves down. I emptied the magazine (15 bullets) and took my time between each shot to aim. In the back of the head I constantly heard the phrase: 'hurry up with everything but your shooting'. To my satisfaction very few of my shots were outside the alpha zone. Evidently the instructors felt that we hadn't been shooting fast enough, so we were ordered to repeat the exercise but a lot faster. This of course resulted in that I could not hear "the voice"due to the noise from the shots. Afterwards I could tell that the 'spreading' of the bullets had increased, but there were all the same only few shots outside the charlie zone, and I knew exactly why.
Then, we were divided into two smaller groups, each with a couple of instructors. My group consisted of 5 persons. Apart from me there was one more POMW participant. Now the real IPSC training and education was to begin. Our instructors, with our help, built more and more complex ranges and the level of difficulty was increased gradually. The purpose was to expose us, as much as possible, to what we might encounter at an IPSC competition. One of our instructors had 30 years of IPSC experience, so he has tried a little of everything. We began by learning how to move and shoot at the same time. At first it was simple. We had several targets at different distances and with a 'standard start'. Standard start is when the gun is loaded but still in holster and decocked. To begin with we were able to manage the range with a magazine only. Very quickly the range or the stage as it is called in IPSC, got so long that we had to change magazines on the go. The first challenge required you to think how to plan when to change the magazine i.e. to find the optimal and most practical moment. It's not a good idea to empty the magazine, because reloading will cost you time. In order to take this aspect into account we started to go through the stages once they were built. We got 5 minutes to do a "walkthrough" and to plan how to shoot. After a couple of stages, barricades were added. Here you had to shoot around, under and through the barricades as well as climbing above or below them. Barricades can be house corners, walls, windows, doors etc. With the longer stages and still more complicated barricades we got challenged to reflect and "read" the stage. If you read it correctly and optimise your run, you can save several seconds. Since IPSC is all about speed and accuracy, it is important to plan well and hit all targets. A "mike" (missed shot) or "failure two engage" costs a lot of points. I had a few times a run through a stage and forgotten to shoot at a target. Although I had been the fastest I would probably have lost that stage.
When we had rehearsed the change of magazines and the simple parts of IPSC, our instructors took it up one notch. This would prove to be a trend for the rest of the day. So far they had been "nice" to us, and there had only been a few DQs and raised fingers, when we were on the edge of exercising unsafe arms control. Now there was no more sweet-talking us. The pointing angles were narrowed and if your finger was in the trigger while changing magazine or not aiming at a target, you were disqualified (DQ'ed). Everyone got DQ'ed at one time or another. But as one of the instructors said: better today than tomorrow. It could well be that he would have to change his pants afterwards and that we would be DQ'ed, if we pointed at him, but apart from that there would be no consequenses. This day there was still room for mistakes. The following day would cost us the A-license. On some of the stages different starting positions were introduced. Instead of a loaded gun in the belt, it was now to be placed in front of you, with the magazines next to it. The additional magazines you'd need were laying there too and if you should need more than one, to complete the stage you should carry it with you. Then the gun was placed on a table and the magazines placed in a drawer while you were placed in a chair. Sitting down you had to open the tray, take the magazines up and load the gun before you could start shooting at the targets on the stage. So there were plenty of opportunities to fumble with the gun. This combined with the narrowed point angles and keeping the pistol straight required a lot of concentration.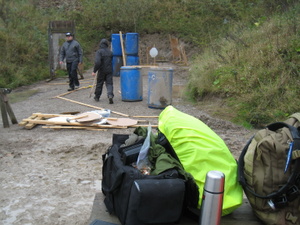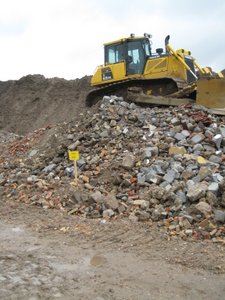 After fussing about for a few hours and having completed a good part of the programme, it was time for lunch. During lunch my squad was informed that we were to place us behind the 'hole'. I would rather call this place a mud hole as it had been raining for a few days and it was pretty muddy down there. Fortunately, there was not so much mud in the 'hole' itself. The mud hole was a lot smaller than the hole we had shot in in the morning. Nevertheless, the stages we were sent through were pretty challenging and very varied. It's impressive what can be made ​​of a stage of 30-40 m2. We were not to move so much, but in return we had to move correctly. After a few hours in the small hole the day was over. We had completed all of Saturday's programme and a good part of the Sunday's. We even got praised by the instructors for being so quick to learn. Now it was time to tidy up the place which took some time. The following day we would have yet another day of training and finally the A-license exam. So we all went home, unpacked, hang our clothes up to dry and cleaned our guns and magazines for the following day. One of the challenges of the day had been to prevent sand and dirt from getting into the gun and magazines. When you drop an empty or almost empty magazine in sand or gravel, dirt gets in, and wet sand even tends to stick. It had therefore been important throughout the day, to make sure to keep the worst dirt out. Otherwise, the magazine would not eject the cartridges and that would stop you from shooting. We had also been warned that there would be a theory test during the day. Therefore I also needed to revisit the manual. A few bad habits had shown during the day and therefore I had some re-programming to do. It was therefore quite late before I went to bed and the morning after it started all over again.
Like Saturday, Sunday started with breakfast and coffee. After breakfast we went to the shooting range. Our instructor took us through a few stages and when we had been through the programme, there was still some time. We were asked if there was anything we wanted to rehearse. Everybody agreed that shooting around barricades would be good to repeat as it had caused us some problems the previous day. We therefore made a number of stages where we could shoot around the barricades. At lunch time we had been through the entire programme and then some. The instructors stated that we had a good team. During the lunch we were told that they afterwards would go down to the shooting range and build the stages where we were to pass at the exam. We had to wait in the clubhouse where we would be picked up once the stages were finished. There would be 4 stages; 2 short and 2 of medium length.
We needed to keep our squads and shoot stages staggered. While we waited for the instructors to pick us up, I took the opportunity to check the equipment, clean the magazines etc. as well as prepare mentally for the exam. I decided to 'drive' safely and not hurry though the stage. The important thing was to pass the exam and not be disqualified. After waiting, in what seemed a long time, one of the instructors showed up to collect us. Meanwhile, the weather had changed. The perfect shooting conditions from Saturday and a good part of Sunday had turned into grey clouds and showers. Fortunately is only began to rain at the exam and not it the morning. It would have been terrible to be soaked and cold when doing the exam.
My squad started at stage 1, which was quite short. We were briefed on the stage i.e. how many types of targets, points, safety angles and distances. Then we were given 5 minutes to go through the stage. Then the first shooter was told to get ready. I must admit that I was a little nervous when it was my turn, not due to the danger of shooting but because I did not want to be DQ'ed. One could easily overlook a safety issue or two, once the exam had begun. I forgot my intentions of taking my time and sped through the stage at the 4th fastest time. This did, however, not help me much, as I had 2 'mike's' and 2 delta's. This placed me as number 7 for the stage. Had the 2 'mike's' been deltas, I would have finished fourth. Then we shot Stage 2, which was a little longer than Stage 1. Here I gave myself more time and completed it in 47 seconds, which placed me last. I hit all the targets and had only 6 charlies, out of 24 shots, and it placed me as number 4 of the stage.
At Stage 3, which was the longest, I had to shoot first. Unfortunately I had not thought the stage through well enough and not surprisingly I got the worst time. Yet, I did hit most of the targets with a good part placed in the alpha zone. In spite of my poor time, it put me as number 4 for this stage. After Stage 3 came Stage 4. It was a short stage where we were to shoot with a 'weak hand' only. I got the third best time, and with only three charlies I ended at number three.
Most importantly, though, had been the completion of the 4 stages without being DQ'ed. Now the question was whether I had acquired the A-license. While we cleaned the area, the instructors went voting and once we had finished, we were called in one by one to get our verdict. The instructors did not have much to say to me. I had not made ​​me noticed during the 2 days, which within IPSC is a good thing. If you get noticed it's because you're fucking things up, and in IPSC it can be dangerous to you and others. I was therefore handed my diploma and a temporary A-license certificate. The 5-7 months of serious preparation had paid off and enabled me to obtain the A-license, the top of the pops within shooting. I guess that you can say that it a proof that the POMW technical manual works. By the way, on the final list I ended up as number 5 (score 84.95%). I was beaten by 2 other POMW participants (score 100% and 99,53%), en hunter with more than 15 years of shooting experience (score 90,07%) and an active police officer (score 88.73%). Not bad at all if I you ask my opinion.
Warning: Use of undefined constant is_front_page - assumed 'is_front_page' (this will throw an Error in a future version of PHP) in /customers/8/5/f/jokokan.com/httpd.www/pomw/wp-content/themes/wp-simple/parts/blog-tax.php on line 8 Warning: Use of undefined constant is_front_page - assumed 'is_front_page' (this will throw an Error in a future version of PHP) in /customers/8/5/f/jokokan.com/httpd.www/pomw/wp-content/themes/wp-simple/parts/blog-tax.php on line 17