POMW III, Intermediate
By Claus Shishú,2013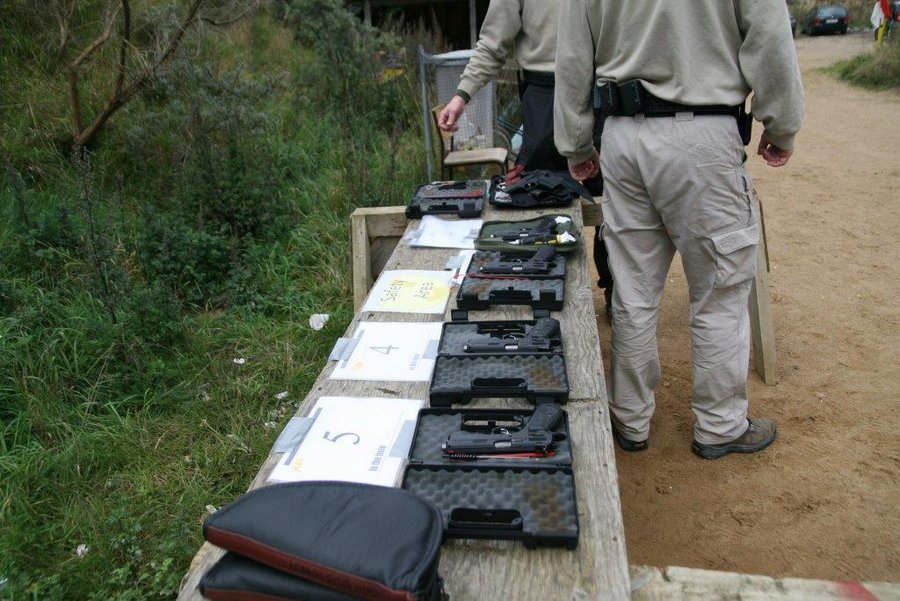 POMW 3 would take place over 3 Sundays in September, after the summer vacation.
There was a crowd of 15 people, who had registered in the course. The course should make them intermediate pistol shooters.
Everyone was excited to see, what was going to happen.
The first time at the course, was the normal shooting with 9mm and 6mm. The reason they shot with two different calibers, was partly to train POMW basic shooting techniques and to make the attendants confidential with 9mm. With the 6mm you can train precision, which I personally prefer. I will probably never be an "elite shooter", I don't have enough patience or time for that. But if I should say, I shoot great with the 6mm (.22 Cal.). But for the attendants the purpose was partly to practise they're skills and making them comfortable with the 9'er, so that time was to refresh and continue building on the knowledge we already had. The first time at the course showed me that most of the attendents couldn't wait until the next part of the course. The next part of the course, which was the next week, took place out in the open and partly on a range. That was a day where all the attendants arrived happy and ready, and also excited for the day ahead of them.
Personaly I prefer shooting out in the open, especially when the sun shines and it isn't too hot. That day it was a little cloudy and there was partly showers then and now. But that didn't ruin the attendents mood, During the day the attendents had to shoot after IPCS target at different distances from 8m to about 25m. It was a very hectic day with right under 400 shots per attendent. With three attendents per gun it went well. The track was also dotted with brass cases which of course had to be collected afterwards. During the day we trained reset function and double shots, not to be confused with the so called double tap, and transition where you switch between multiple targets, which can be above, below or next to each other. There lies the greatest challenge, the closer you are to the targets the more you have to move. On long distances, this makes no sense. These are the elements used in IPCS. That must be the Formel 1 of shooting. The attendents unfortunately couldn't move while shooting, that required an A-license and a range officer, and only five attendents had an A-license and only one had range officer license. When the morning was over, they left for the shooting range. Unfortunantly many attendents forgot their basic training, and continued from earlier that day. It was probably because people started getting tired. But the results were still impressive for a shooter with their experience.
The last part of the course was like the previous ones, people arrived happy and excited to see what the day would bring. The best was that the sun came out once in a while and it didn't rain. It was perfect shooting weather. The day started like the previous day, with some training and some safety lessons. Shooting at different distance from 8-25m, transition and reset function. When it went really well, the attendants got the opertunity to shoot around the barricades after a little of instruction. They also tried shooting at a distance of 40m which really placed pressure on the attendants, as they realized it was difficult. After a great morning of shooting in the open, the morning enden with a traditional range shooting with a 6mm (.22 cal.). You could feel the attendants started getting tired, which showed in their results. The results were still great, if you consider how little they had shot. And still be able to shoot into Denmark's 1. Division. They did a great job and they all prove POMW and the theory behind works
Warning: Use of undefined constant is_front_page - assumed 'is_front_page' (this will throw an Error in a future version of PHP) in /customers/8/5/f/jokokan.com/httpd.www/pomw/wp-content/themes/wp-simple/parts/blog-tax.php on line 8 Warning: Use of undefined constant is_front_page - assumed 'is_front_page' (this will throw an Error in a future version of PHP) in /customers/8/5/f/jokokan.com/httpd.www/pomw/wp-content/themes/wp-simple/parts/blog-tax.php on line 17