POMW! Test Exam no. 1 and IPSC match – Norco, California, USA
By Kimu Sensei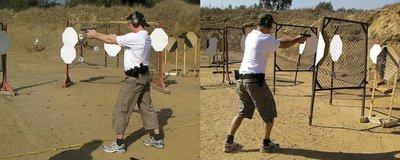 The DSF A license was passed on a Sunday and six days later, the first match was shot and the POMW! safety-shoot technique script exam was tested. In the IPSC world the world's most famous IPSC club is without a doubt, the Running Gun, in Norco. Here, some of the world's most famous shooters are training, the world champions and legends; Michael Voigt, KC Eusebio, Jojo Vidanes, Maggie Reese, Rob Leatham and a large part of the U.S. national team, as well as regular visits by other world champions and legends. They live on the Raahauge Shooting Range, California, which is owned by Mike Raahauge whose grandfather was a Dane.
Here was the first match shot, and I was very pleased that this first match was experienced together with Jens Hanshi-dai. You can read Jens Hanshi-dai's article about Christmas time, but I can reveal that I had become so pressured by the workload of the POMW! project that I re-allocated Jens Hanshi-Dai leadership development seminar for 5-7.dan – to the U.S. This was also a part of my 50 birthday present for Jens Hanshi-dai, and on top of this came also his own payment of 5,000, – DKK, as well as my extensive discount schemes.
The POMW! safety-shoot technique script was tested and served on a silver platter for Jens Hanshi-dai, which resulted in approx. 1,800 good shots and 3-4000 dry shoots in 4 days.
The spirit in Shindenkan is so that we try to meet all our members' full potential by taking them on a journey. The same rules that applies for others, of course applies to us all.
That's way the impact and outcome of the POMW! safety-shoot technique script should stand the test of a 100 + IPSC shooter tournament with the world's best IPSC shooters in the world and on the most famous IPSC range.
Jens Hanshi-dai borrowed his Glock pistol from Hawk, an old IPSC elite shooter and spec.ops. Vietnam veteran. I borrowed my Glock pistol of Jojo Vidanes, which was a modified 2008 IPSC World Champion and 2011 team World Champion, along with Michael Voigt and Rob Leatham. Voigt and Leatham is undoubtedly the world's most winning elite shooter ever, and are living legends for over 30 years.
The match lasted for 9-10 hours, and one thing we can say with certainty; When TV or feature film presents spectacular shooting at the highest level, then Jens Hanshi-dai and myself had confirmed that it definitely is a lie. We now know for ourselves that in reality the world's best shooters – shoot significantly faster and more accurately!
At the same time there is also very martial arts over them – as they actually are all very helpful, modest, but all as one, ready and fully conscious of their shooting skills.
There are a lot of them, which with a big smile, shoots 3 x 6 shots in the A zone with drawing from a sheath including two magazine shifts towards three goals respectively. 7-10 – 13 m, – in less than 7 seconds, 18 shots.
Or 2 x 2 shots in the A zone against three goals with magazine change of 10 meters –in less than 4 seconds, 12 shots. But in IPSC matches the pistol targets could be completely out of 50 m – Especially in the USA. In Europe, not more than 25 m.
Jens Hanshi-dai and myself took it easy with our borrowed gear and guns, so we avoided a safety disqualification on our first IPSC match. The POMW! safety-shoot technique script, Issue 1, passed its test with flying colors. The author shot 30% from the match winner, and Jens Hanshi-dai shoot 9% of the winner, who was the USPSA and IPSC president, 30-40? different time's world champion and Delta Force chief shooting instructor, Michael Voigt. That the competition was fierce was testified with a 23'ende place for the female world champion – but whom also shot fantastic!
It was truly an amazing experience privilege, and phenomenal as the first IPSC match experience – and definitely worth a repeat, if the opportunity presents itself.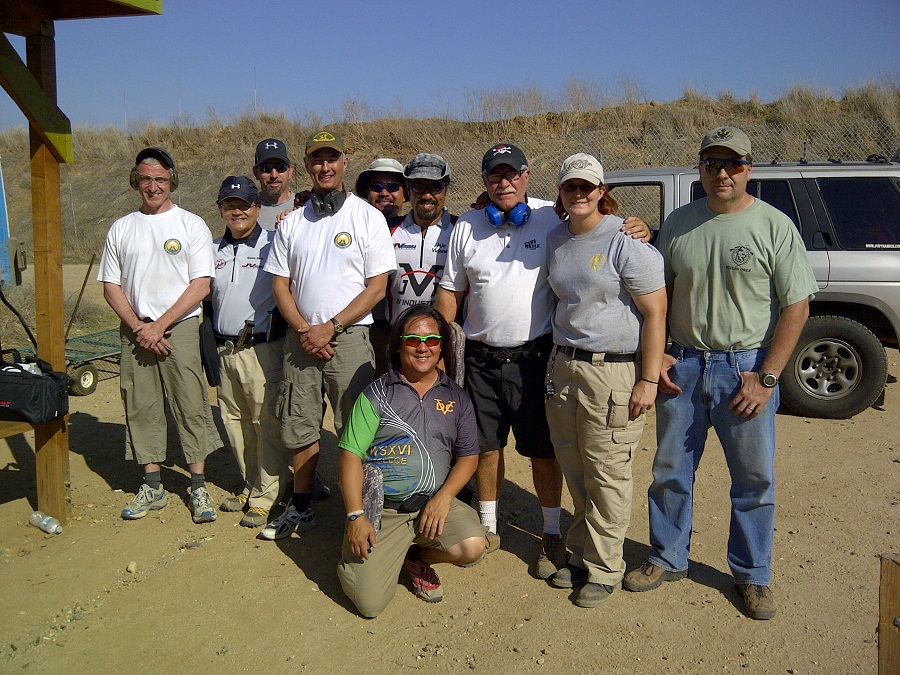 Warning: Use of undefined constant is_front_page - assumed 'is_front_page' (this will throw an Error in a future version of PHP) in /customers/8/5/f/jokokan.com/httpd.www/pomw/wp-content/themes/wp-simple/parts/blog-tax.php on line 8 Warning: Use of undefined constant is_front_page - assumed 'is_front_page' (this will throw an Error in a future version of PHP) in /customers/8/5/f/jokokan.com/httpd.www/pomw/wp-content/themes/wp-simple/parts/blog-tax.php on line 17