POMW! I Module A, B og C
By Henrik B. Jørgensen, Jokokan Ballerup, 1st kyu Yakami Shinsei-ryu Karate-do, first dan Bujutsu Kodosokukai Gensei-ryu Karate-do, June 2012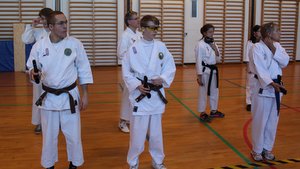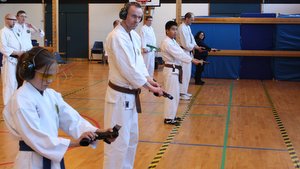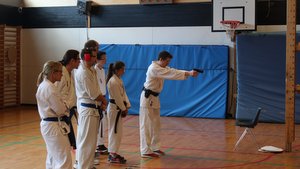 When we were told, in the autumn of 2011, that there was a course that referred to firearms, I was probably a part skeptical! What do guns have to do with karate?
Here I walk around in my safe environment, and do not have the mindset that there are quite a few firearms that are ready to kill, yes probably closer than I would like to admit.
After the intro about the course, I wondered if it really was relevant to me (and my family), .It sounded, after all, still a little far away from my normal world. However, after some consideration and chats with friends and other karate people, I decided that it was probably a good idea, and that it can never hurt to learn more. Furthermore, it is after all still something about defending myself, and be able to take the safe choice if the situation were to come, and not to ignore as well that it has become a part of the curriculum for the 1.st dan graduation.
My greatest expectations was, if I could see the benefit of knowing more about firearms and if I should change my perception of how important and significant weapons really are in my everyday life. Then of course, there also was a little issue of whether I also would be able to figure out how to shoot a gun. I have shot with 22mm. rifle in 1984 and 1985 in 15 and 25 m. ranges, but never got a real education of how to shoot, (I was not very good with a rifle) So it could for sure only get better.
I read the material forwarded, and met up for the first course in the Måløv Hall on Jan. 27., where we got a basic instruction on how the POMW project were started and would be settled. Kimu Sensei presented an imaginary episode where we had to decide, in a critical situation, if we would pick up a lost gun and use it. In addition, more than half of us were not clarified, whether it was good or bad to pick up the gun. I considered that I should not picked up the gun and it would be with fatal consequences for my family and myself, if it were in fact, a real situation. Then there was something to think about until the next time.
The next course was on May 12. in Greve, here we should try to handle and shoot a CZ 75 air gun, with 6 mm. plastic bullits. As well as a thorough instruction in safety and security not to forget the basic skills, the basic and the basic. Just like everything else in the martial arts, a foundation is very important for having success in the performed technique. The feeling of having a gun in one hand, produced a strange sense of power, and I can understand that people get a kind of power when they get a gun in there hand, but are they also ready to use it? It brings me to what it means to be clarified. Which is the most important question, if / when you are in a situation where it is necessary to use force. Am I clarified enough to take another person's life? because I was not in January; I thought on this a little further.
The shooting went much better than expected; we shot at 3, 5 and 8 m. distance on boards, which were designed for 5m. Before we finished the day, we were told to practice correct handgrip with aiming for about half an hour a day (every day) in order to train the body, arms and technique to shoot next time. I drove home from the course, with a feeling in which I already was a lot better to handle and hit the targets, with a certain kind of safety. In the week after, I bought a CZ 75 air gun through Christian, with a good discount, so I could practice with the correct model.
The last module of TSM POMW I was on the 1st and 2nd of June in Greve, where we had to prove we were technically better, to handle the gun and perhaps better to hit the targets. We started the day to get a clarification in whether we all had been trained as agreed. I had practiced 16 times out of max 20 times. Therefore, my expectations were not necessarily important. After a little recap from the last module, we started to shoot with the same partner as last time. Mads and I teamed up and when I meanwhile had bought a CZ 75 air gun, we shot with this.
It rather quickly turned out, that the relative Spartan training at home, to handle and practice aiming with the gun, was a good investment. I felt much more comfortable with the gun this time and the exercise with the aim, resulted in that I hit with the majority of my shots. Both at 3, 5 and 8 m distances.
After a few hours of shooting from standing position at changing distances, it was time for a lunch break. Then we had to shoot with precision laser guns from up to 15 m distance on different size targets both up and down. A stage with different shooting positions was created, in which you have to shoot from the left and right side while going up to 5 m. forward to the target and also on targets up and down and with different sizes, and of course it was timed as well as having to change magazine, in the middle of the stage. Of course, in addition with all the other participants and spectators. It was important to stay focused and handle the gun very carefully.
In the last few days, with a gun in my hand, I became more clarified. In the sense that if I one day should be in the imaginary critical situation, where a mugger had lost a loaded gun and me and my family were at the risk of getting hurt very bad, I would pick it up and, if necessary, I was ready to use it.
It finally ended very well and the TSM POMW I A, B and C was passed with a bulletproof smile.
To conclude, I will just tell you that it is not only in martial arts that it is important to stay focused and be clarified. I have a little hobby of racing motorbikes on a racetrack, just to keep the old racing spark alive. After about a 10-year break from the racetrack, I got an offer from an ex, racer colleague, to spend 3 days on the Anderstorp raceway, on his Yamaha R1 1000 cc. with 180 hp. not many moments passed before I accepted the offer. D. 14th, 15th and 16th of May, we were on the track and it went so well, that I moved up in the second best class and then won the Wednesday's race by more than 10 seconds to no. 2. Probably it was the targeted and the trained focus that helped me to do so well.
Warning: Use of undefined constant is_front_page - assumed 'is_front_page' (this will throw an Error in a future version of PHP) in /customers/8/5/f/jokokan.com/httpd.www/pomw/wp-content/themes/wp-simple/parts/blog-tax.php on line 8 Warning: Use of undefined constant is_front_page - assumed 'is_front_page' (this will throw an Error in a future version of PHP) in /customers/8/5/f/jokokan.com/httpd.www/pomw/wp-content/themes/wp-simple/parts/blog-tax.php on line 17